I know there aren't a massive amount of pre-war football collectors out there. Sometimes this is because collectors don't actually know what is available to collect! I've even had conversation with football card dealers who are not aware of all of the pre-war items that are out there and available.
I thought it would be interesting to start a thread to show pre-war sets and items. As I like the history and people stories behind the cards, I'll try to add in a few interesting tidbits about the players and sets they are included in.
Let me start off with the first football card ever produced: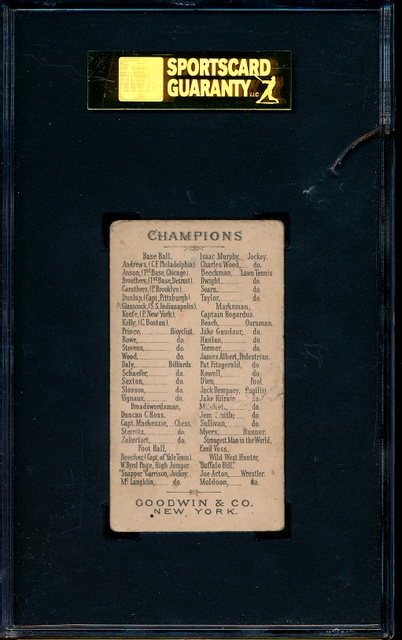 Harry Beecher is the only football card in the 1888 Goodwin Champions set. He was the captain of the undefeated Yale Bulldogs of 1887 and rushed for 66 touchdowns in his three years of college ball.
Beecher was the grandson of Rev. Harry Ward Beecher who was a popular pastor, lecturer, and anti-slavery activist during the 1800s. Rev. Beecher's sister was author Harriet Beecher Stowe, who wrote Uncle Tom's Cabin.
The football playing Beecher went on to become a sports writer, insurance agent, and retail company executive until he retired and became a farmer at 60 years of age. He lived to be 81 and died in Chicago near where his daughter lived.
Please jump in and add your own pre-war items when you can!
jeff